Welcome to Lakeside Smiles Pediatric Dentistry
We specialize in Dentistry for Infants, Children, Adolescents, and Special Needs Patients in the Lakes Region of New Hampshire
At Lakeside Smiles we are committed to providing each patient with professional care and respect. Our goal is to educate patients and parents on proper oral hygiene techniques as well as dental disease prevention strategies. We offer a non-threatening, fun atmosphere where children will establish positive memories. Lakeside Smiles is dedicated to the use of state-of-the-art digital technology to both advance the patient's understanding of procedures and offer safer, superior treatment. Most importantly, we strive to provide each patient with the same level of care and compassion that we would want for our own children.
We are conveniently located at 82 Main Street Alton, New Hampshire. See Map

Review our pediatric dentistry services and call Lakeside Smiles today to get your child on the path to dental success!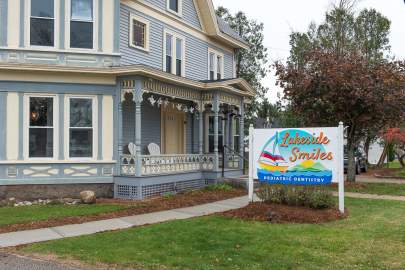 Now Accepting New Patients!