Dr. Mindy
Dr. Mindy Hall, a Board Certified Pediatric Dentist, owned a practice in Vero Beach, FL for 10 years before moving back up to New Hampshire in the summer of 2017. After graduating from Brewster Academy in 1997 she attended the University of New Hampshire for two years until she transferred to the University of Florida. There she finished her undergraduate studies with a Bachelor of Science in Health Science Education. She continued her post grad education at the University of Florida for both dental school and her pediatric residency. Dr. Mindy is a member of the Omicron Kappa Upsilon Dental Honor Society, graduated Cum Laude from dental school and served as Chief Resident during her residency. Her numerous affiliations include the American Dental Association, American Association of Pediatric Dentistry, PedoGators, and the New Hampshire Dental Society. Dr. Mindy and her husband, Andy, have 4 children, Jackson, Ruby, Judy and Elsie! Away from work she enjoys yoga, hiking, snow and water skiing, paddleboarding, and especially sailing on Lake Winnipesaukee.
Ms. Lori
Born and raised a NH native, Miss Lori started her medical careers over 22 years ago in the Air Force as a Medical Technician and EMT. There she met her husband, David, and relocated with him to the greater Philadelphia area and pursued a career in a dental hygiene. As a hygienist for the last 15 years she has enjoyed all areas of dentistry, especially pediatrics! Miss Lori and David chose the country over the city to raise their family and came to the Lakes Region in 2012. She enjoys taking advantage of everything NH has to offer with her 3 children; seasons, skiing, hiking, swimming, gardening and cooking what they grow, and especially cider and maple syrup! :)
Miss Stephanie
Miss Stephanie is a Certified Dental Assistant & Expanded Function Restorative Auxiliary. Her dental career has spanned 20 years from Endodontics, Cosmetics and Implant supported dentistry to a change into Pediatrics as a Restorative Assistant. Stephanie was raised in Southern NH and spent every summer on the beautiful Lake Winnipesaukee. She resides in Alton with her partner Marc, their 3 Children Trinity, Tristan, Sawyer and 2 dogs…Tucker and Miss Wee Daisy. Stephanie, Marc and family enjoy spending their free time at their families camp on Winnipesaukee, boating, swimming, traveling, skiing and checking out local breweries. Her guilty pleasures: espresso martinis, cheez-its and cruising in her convertible.
Ms. Nichole
Nichole was raised in New Hampshire. She has worked in pediatrics clinically and administratively for 9 years. She and her husband, Seth, currently reside in Barnstead where they raise their daughter, Madison, one fat cat, and some crazy chickens. Together they enjoy watching their daughter's athletics, kayaking, swimming, fishing and vacationing in Pittsburgh, N.H. every summer.
Ms. Erica
Erica was born in Springfield, MA and grew up in Townshend, Vt, where her parents owned a family business, the Restaurant & Inn for 18 years. She is the youngest of 4 siblings and graduated from Leland & Gray Union High School in 2000. She started working in the dental field at the age of 18, for her childhood dentist, Dr. Jeffrey Wallace DDS. At age 24, she passed the DANB national boards to become a certified dental assistant. She moved to the Lakes Region in 2005 and married her amazing husband Brian Dean in 2017. They have 4 kids; Alexa, Drew, Bennett and Piper.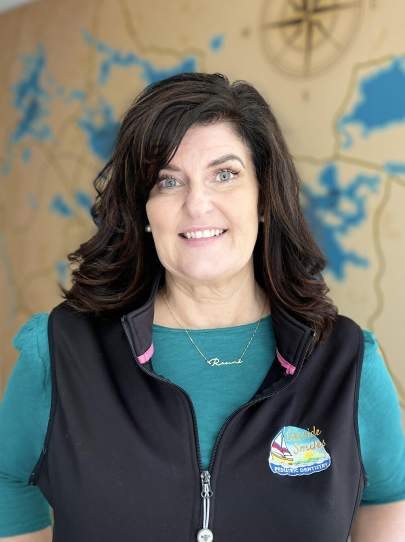 Ms. Racine
Racine grew up in Massachusetts and has lived in New Hampshire for many years. She started in the dental field in 1999 as the check-in person and quickly moved her way up. Since she has held several different positions at the front desk, most recently at Lakeside Smiles as our Insurance Coordinator. She has been married to her high school sweetheart for 37 years. Together they have two daughters, four grandchildren and two very spoiled cats. Her guilty pleasures are: True crime podcasts, reality shows and most recently, TikTok.
Ms. Kristine
Ms. Kristine is a Registered Dental Hygienist, RDH. She graduated from NHTI in 2004, she has actively been practicing Dental Hygiene for the past 18 years. She grew up in Southwestern NH, the Monadnock Region. She resides in New Durham, NH with her husband, Chris, their two children, Ben and Autumn, and their dog, Rocky. Being a native of NH she loves spending time with her family outdoors they enjoy hiking, kayaking, swimming at the lakes or ocean, skiing and snowshoeing. Her favorite time of year is Autumn taking the family apple picking, leaf peeping along the Kancamangus, going to fairs, corn mazes, and watching the New England Patriots. Ms. Kristine's true happy place is walking the coast line of the Atlantic Ocean and stopping to explore tidal pools with her family.
Ms. Anna
Anna was born and raised in NH but recently moved to the area from Georgia. She is currently working to get certified as a dental assistant and raising her wild 6-year old, Teddy. When she's not at work she's usually attending her sons sports games/practices or spending time with family. Her guilty pleasures are Swedish Fish, all forms of chocolate and keeping up with the Kardashians.
Ms. Stacie
Ms. Stacie has lived here in the beautiful Lakes Region her whole life. She began her dental career 23
years ago as a Certified Dental Assistant. She assisted while pursuing her dream of becoming a dental
hygienist and has been a Registered Dental Hygienist for 16 years. Throughout her dental career she has
enjoyed working in general practices and pediatric dental offices. Miss Stacie and her husband, Ryan, live
in Gilmanton with their three boys. They spend time together hiking, swimming, boating, watching the
kids play soccer and hanging out with their two dogs and two cats. Her guilty pleasures are plain M &
M's, coffee and reading.